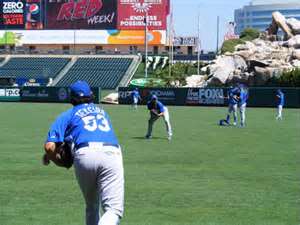 One of my favorite drills for all baseball players is Long Toss also called Long Catch.
It has 3 benefits:
Strengthens the Arm

Forces natural throwing motion
Increases the awareness of the body rhythm and motion
But, I've never thought about incorporating some variations into the long toss.
In this article, a long toss variation is introduced using the change-up grip.
The change-up is difficult to learn, because kids always try to slow down their arm speed and can't control it.
Long toss with the change-up grip has 2 advantages:
Forced arm speed keeping your kid from slowing down when throwing the change-up.

Better Control.  When learning the change-up, throwing it accurately while pitching is difficult.  Long toss allows you to gradually reign in the control.
The Long Toss workout, although primarily being an arm strengthening workout, can easily be varied in order to address additional important skills and issues facing a pitcher.

Because of the intricacy of some Pitchers' baseball workouts require, they often only address one skill or issue at a time, which although being a necessary evil, sometimes in a short and compact season this may seem like a waste of coaching time.
See full story on learn-youth-baseball-coaching.com